Finden Sie hier unser Veranstaltungsangebot zu aktuellen Themen aus den Bereichen Digitalisierung, Industrie 4.0 und Produktion.
14 May 2019 - 15 May 2019
Mastering the Digital Supply Chain
Prof. Ann Vereecke, Professor of Supply Chain Management at Vlerick Business School
Prof. Robin Kleer, Associate Professor of Innovation Management at Vlerick Business School
Prof. Fredrik Hacklin, Professor of Entrepreneurship at Vlerick Business School and Managing Director of the Corporate Innovation Lab
Prof. Frank Piller, Professor at RWTH Aachen University & a Co-Founder of the MIT Smart Customization Group, Massachusetts Institute of Technology, USA.
Mastering the Digital Supply Chain - Design your own "Industry 4.0" roadmap
Language: English
Fee: 5995 euros (excl. 21% VAT)
Are you ready to transition your business into the Industry 4.0 era?
Industry is changing – getting smarter and more connected. Production will change – and so must the supply chain. This unique programme combines the expertise of one of Europe's leading institutes of technology and one of its leading business schools.
On RWTH Aachen Campus, lab time and demo factory visits combine to give you an action-oriented learning experience. This helps you to build your framework for a factory of the future.
At Vlerick Business School, you'll learn the very latest in strategic supply chain management and leadership. This powerful combination will give you the skills, experience and confidence to master the transition towards a digital factory and supply chain. And as you learn, you'll be developing an action plan for your organisation – and present it to your board.
Why this programme?
This programme will enable you to:
Demystify Industry 4.0
Build a roadmap to take your company to its own unique journey to smart supply chains
Dive deep into the smart factory – and know how to assess the investment required, as well as likely Returns
Visit a demo plant so that you can directly experience what's possible
Dive deep into the smart supply chain – and create a plan for digitising and transforming your own supply system
Discover the new opportunities that smart supply chains can create
Lead the transformation you are recommending
For Whom?
This programme is designed for:
Professionals with management responsibilities in operations and IT
Operations managers in manufacturing or logistics companies
Chief Digital Officers
Business and process managers and professionals
Leaders of change projects in manufacturing or logistics companies
Innovation managers
Supply chain and operations consultants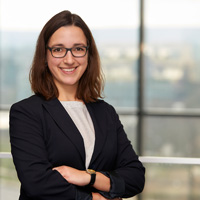 MODULE 1: THE SMART FACTORY
WEBINAR 1: ENGAGING ON THE DIGITAL SUPPLY CHAIN FRAMEWORK (May 9, 2019)
Transitioning to Industry 4.0 is about so much more than technologies and cost efficiencies. During this webinar, you will get to grips with the framework of how smart factories and smart supply chains integrate.
AACHEN 2 DAYS: DIVING INTO THE SMART FACTORY (May 14-15, 2019)
This module kicks off in Aachen, at the RWTH University. You'll discover what a smart factory is, what kinds of value it creates and how it can create value. You'll gain a deep understanding of the stages of development needed to create a smart factory. And you'll get to see a smart factory in action. During this module in Aachen, you will create part one of your action plan.
RECOMMENDATION 1: FEEDBACK IN-COMPANY
To bring your action plan to a higher level, we recommend you to go back to your company and ask feedback of your colleagues. This will be valuable input for the next webinar.
WEBINAR 2: ASSESSING THE ACTION PLAN (June 4, 2019)
During this webinar you'll get feedback on the action plan you've created so far. Small groups of participants and faculty will act as a critical friend, challenging your plan and helping you to improve.
MODULE 2: THE SMART SUPPLY CHAIN
GHENT 3 DAYS: DIVING INTO THE SMART SUPPLY CHAIN & HOW TO LEAD TRANSFORMATION (June 25-27, 2019)
It's time to break down barriers and re-imagine your business. You'll discover how supply chains can become an eco-system. You'll learn how industrial boundaries are changing and creating new opportunities for growth. During this module, you'll also visit a factory to see how this is already beginning to happen. You'll look at the shift you may need to bring about in yourself to become an agent of change in your organisation. Last but not least, you will take charge of the second and last part of your action plan.
RECOMMENDATION 2: BOARD PRESENTATION
As a final closure of your action plan, we advice you to present your action plan to your board. This way you'll make sure everyone stands behind the plan and you can start make real changes in your organisation.
WEBINAR 3: REVIEWING YOUR ACTION PLAN (September 24, 2019)
After you present your action plan to the board of your organisation, we take time to reflect on it with you. It's all about putting knowledge into action and action into knowledge.
Please fill in the form for your registration: